Learn everything you need to know to fabricate lightweight hollow metal framework, 100% square, using only a tape measure and standard power tools thanks to Kwiktech's Engineering Plastic Connectors, ingeniously designed to do all the work.
While welding remains a critical skill for fabricating large scale framework, it is certainly not a skill known by all, and certainly not a skill for all fabrications. And that is where Kwiktech comes in.
Kwiktech turns anyone into a world-class fabricator in minutes thanks to ingeniously designed Engineering Plastic Connectors, specifically designed to do all the work.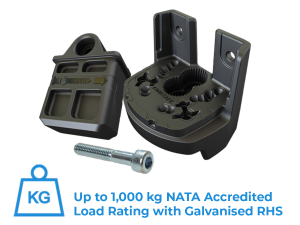 Kwiktech is a DIY Metal Fabrication System that utilises state-of-the-art technology to improve on traditional construction principles to produce the fastest, easiest and cheapest hollow metal framework possible.
Made from specially formulated Nylon 6, the most trusted and versatile Engineering Plastic available, with added Glass Reinforcement for strength and dimensional stability and UV Stabilisers to disperse UV Light to well below impactful limits, Kwiktech utilises Compression Forces to brace your hollow metal framework improving on the same principles as Nailplates and Timber Trusses used in House Construction for hundreds of years.
The Benefits of Fabricating with Kwiktech?
Unlike traditional fabrication techniques, Kwiktech requires no extensive training or learning, no expensive or difficult to learn equipment, no time-consuming preparation and clean up, no extensive time wasting calculating cut angles, no exhausting attempts to square everything up and absolutely no previous experience is required whatsoever.
No Extensive Training or Learning
If you can use a tape measure and a standard impact driver (or power drill) you can fabricate with Kwiktech. Simple as that.
Kwiktech was specifically designed with non-fabricators in mind. Invented and perfected by a life-long Welder and Fabricator who grew tired of attempting to weld lightweight galvanised steel, the ingeniously designed connectors do all the work for you. All you have to do is ensure the correct Connectors are in the correct positions and your framework will come up 100% square every time.
Kwiktech is so easy to learn you only need to watch 1 x 4 minute Video Tutorial and download 1 x Easy DIY Fabrication Table and you have everything you need to start fabricating straight away.
No Expensive or Difficult to Learn Equipment
The only equipment you will need to fabricate with Kwiktech is a tape measure and a standard impact driver (or power drill). If you choose to cut your hollow metal lengths yourself, then add a standard Angle Grinder with Cut-off Wheel and you have absolutely everything you need to become a world-class fabricator.
With nearly ALL Steel and Aluminium Suppliers and Hardware Stores offering cutting service for a very minimal cost, you can source cut-to-size lengths so all you have to do is fix your connectors and connect them together.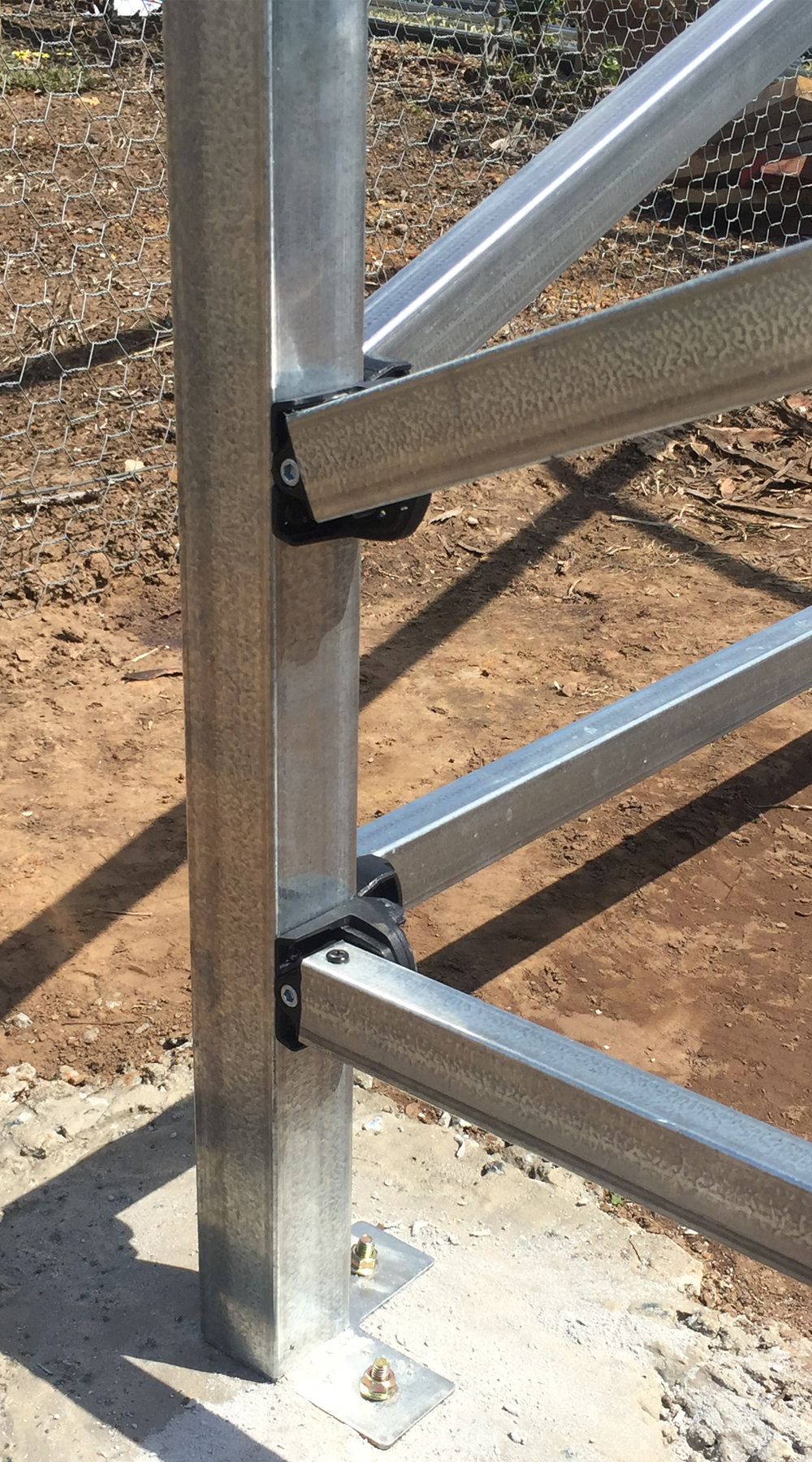 No Time-Consuming Preparation or Clean Up
Kwiktech Connectors fix directly onto your hollow metal with no preparation required at all, and certainly no extensive clean up. Simply mark out the Connector positioning and use the self-drilling galvanised screws to securely fix in place. That's it.
Once your Connectors are connected together by a single zinc-plated bolt, your Connection is complete. No grinding, no painting, nothing. Fix, Connect, Secure, Done.
No Extensive Time-Wasting Calculating Cut Angles
Whether you're building with metal or timber, measuring, cutting and perfecting cut angles is one of the most time consuming and down-right annoying aspects of any DIY project for all non-professionals. With Kwiktech, this is now a thing of the past!
All cut-lengths are cut straight with the Connectors doing all the work thanks to 11 available locking angles that guarantee perfect angles every time.
No Exhausting Attempts to Square Everything Up
Utilising clinically precise connectors and simple mathematics Kwiktech allows you to fabricate with confidence knowing as long as you position the right Connectors in the right positions, your framework will come up 100% square.
Kwiktech securely locks your hollow metal lengths at precise angles allowing simple mathematics to do the rest. Just like back in year 8 Maths, if you know your angle and the lengths of your sides, your triangle or square will come up perfectly square, every time.
Absolutely No Experience Required
None. And we mean none. All the experience you need to fabricate with Kwiktech is a Primary School education.
By using our Easy DIY Fabrication Table the hardest part about fabricating with Kwiktech is ensuring you position your Connectors correctly, and this isn't even that hard.
Once fixed in their correct positions, all you need to do is use a standard impact driver (or power drill) to secure each Connector to the hollow metal using the provided self-drilling galvanised screws, connect your Connectors together at one of the 11 available locking angles and secure with a single zinc-plated bolt. As simple as that.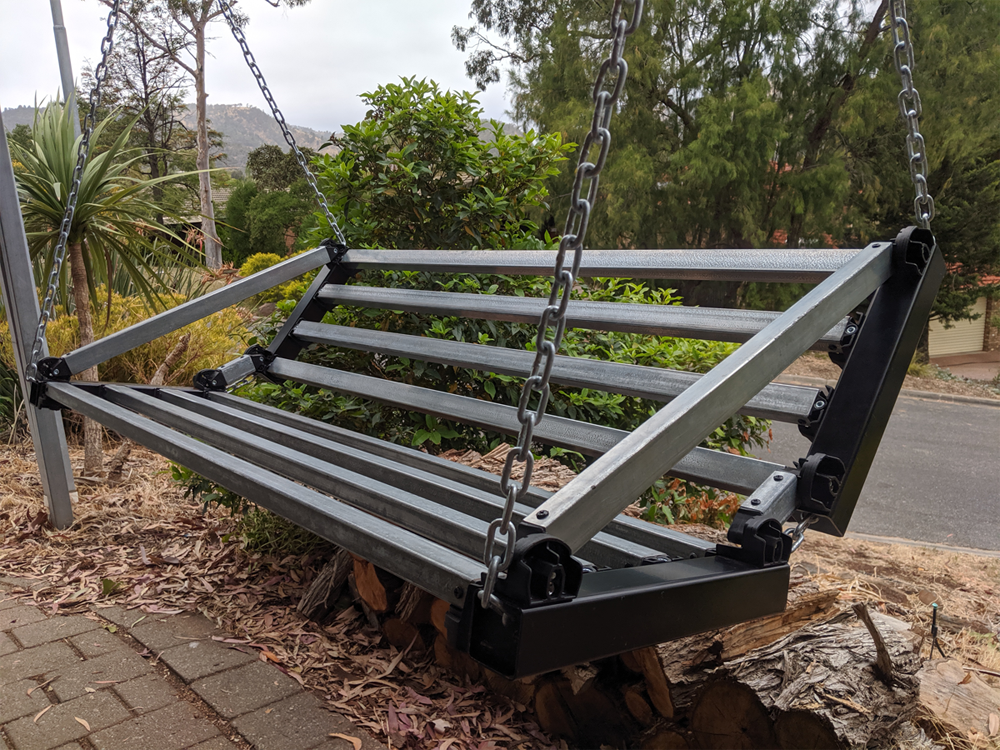 How to Fabricate 100% Square Framework with Kwiktech
Fabricating with Kwiktech is so easy to learn that we have condensed all the basics you need to know into a 4-minute Video Tutorial that walks you through every step of the process.
Kwiktech turns anyone into a world-class fabricator in minutes and provides true fabricating freedom for you to take on any DIY project, big or small.
From custom-made gates and fencing to privacy screens, garden features, shade houses, pet enclosures and garages and sheds, there really is no limit to what you can create with Kwiktech.
Kwiktech comes in 3 convenient DIY Kits with all required Connector fixings included, allowing you to fabricate the day it arrives.
If you're after a one-stop-shop for your hollow metal and Kwiktech Connectors, check out our Homepage to view Retailers in your local area. We are continually signing up additional Retailers right across Australia, so you can also ask your local Steel Supplier or Hardware Store if they stock Kwiktech too. And if they don't, you can always ask them to get some in.